Free Healthy Recipe - Mushroom momos: Traditional Tibetan dumplings
Dairy free, Low fat, Low GI, Low sugar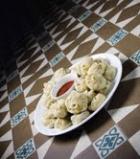 Recipe courtesy of Lentil as Anything (RRP $54.00) Publisher: Irula Press www.ilurapress.com.
Ingredients
2 small
carrots
, peeled & finely chopped
Method
To make the dough, combine the flour and water and knead for 10-15 minutes. Wrap the dough in cling wrap and leave for 5 minutes at room temperature.
To make the filling, combine all ingredients and mix well. Set aside.
Roll the dough into a long rope-like length (about 4 cm thick). Separate the length into about 20 sections, each section about 4 cm long. Using a small rolling pin, or by hand, roll out each section into a circle. Try leaving the dough thicker in the middle to create a base, and much thinner at the edges. The circles should be about 8-10cm across. (Note: This is the traditional Tibetan technique, but it's also possible to first roll out the entire dough and then cut out circles using the mouth of a large cup or pastry cutter.)
Take a circle of pastry in one hand, and with the other hand, add a tablespoon of the filling to the centre of the circle. Begin closing up the momo by making a series of pinches with thumb and forefinger, adding each pinch to the previous one, until the entire edge is gathered up into a pleat at the top. Finally, pinch and twist the pleat to seal the momo.
Place momos into a large steamer over boiling water. Space the momos apart so they do not stick together, and lightly oil the steamer first if stainless steel. Steam momos for 6-8 minutes.
Serve hot with sweet chilli sauce or soy sauce.
The filling is also yummy with added cheese or tofu.
Gluten-Free Option - There are some good all-purpose flour blends available from health food shops that are gluten-free and won't stick when steamed.
Makes 10 servings (serve = 2 dumplings each)
Prep Time:

30 mins

Cooking Time:

10 mins

Ready in:

40 mins



Suitable for:
Dinner, Entree, Finger Food, Lunch, Side Dish
Disclaimer: The Food Coach provides all content as is, without warranty. The Food Coach is not responsible for errors or omissions, or consequences of improper preparation, user allergies, or any other consequence of food preparation or consumption.
Natures Best Belfield
Address: 29 Burwood Rd Belfield
Call us: 9642 5613
Drop in: Monday - Saturday 8am - 6pm Sunday 8am - 5pm

Proud members of