Healthy Food Database
Kumera (Sweet Potato )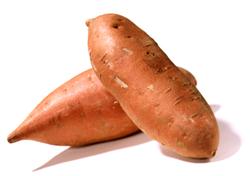 Another tuber (edible root). Kumera is a marvellously versatile vegetable that originated in the West Indies. Like potatoes, it can be cooked in many ways and has the added advantage of being packed with antioxidants with a lower GI than potatoes or pumpkin. It has a pleasant, sweet taste and when mashed is delightfully smooth. Great for kids. Most are orange in colour but you can buy white and purple varieties.
To Buy:
Buy fresh, medium-sized roots. Look for smooth skins and no mould on the ends or excessive dryness.
To Store:
Store in a cool pantry for up to 10 days.
Tips & Tricks:
For improved health and weight maintenance, substitute pumpkin and potato with kumera. A serve of kumera is equal to half a cup of chopped vegetable.
Cooking Tips:
Sweet potato chips are great for the kids - cut very fine slices and brush with olive oil. Lay them flat on baking paper and bake for 10 minutes before turning over and repeating the process on the other side.
Nutrition per 0.5 Cup:
Vitamin A:

Antioxidants:

Low GI < 55:

Monosaturated Fat , g:
0.0
Vitamin C:

Benefits the Following Health Conditions:*
* This information is sourced by a qualified naturopath. It is non prescriptive and not intended as a cure for the condition. Recommended intake is not provided. It is no substitute for the advice and treatment of a professional practitioner.
Disclaimer:
The Food Coach provides all content as is, without warranty. The Food Coach is not responsible for errors or omissions, or consequences of improper preparation, user allergies, or any other consequence of food preparation or consumption.
Natures Best Belfield
Address: 29 Burwood Rd Belfield
Call us: 9642 5613
Drop in: Monday - Saturday 8am - 6pm Sunday 8am - 5pm

Proud members of